I guess some of you have spotify, so I thought that we could share our playlists here.
http://open.spotify.com/user/axxident/playlist/0gR9htsnjyOA2HZFRLANC1
Here's mine

If you want to download spotify go here;
Spotify
Spotify is a free music service that allows you to listen to almost every song in the world.
Depends on how well-known the artist/song is.
If you must have been invited to register, you can use Google to search for "Free spotify invites" and try any of those sites.
In some countries you have to be invited and in some countries you only have to register, if it don't work in your country you can use a proxy server.
Its Great

Hahahaha, it seems to me like a lot of you are scared to try this program.
If you want to know more exactly what Spotify is, I copied these lines from wikipedia.
"Users can access approximately 8 million tracks[32] via searching for artists, albums, titles, labels and genres, and gives users access to tracks from many major and independent labels."
Spotify is a proprietary peer-to-peer music streaming service with desktop applications available for Microsoft Windows and Mac OS X; the Windows version can also be used under Linux with Wine. Developed by Swedish startup "Spotify AB", the software allows unlimited streaming of selected music from a multitude of major and independent record labels including Sony, EMI, Warner Music Group and Universal with virtually no buffering delay.
Music can also be imported from either iTunes or directly from local files.
An ad-supported version of the software is free to download in Sweden, Spain, Norway, Finland, France, the Netherlands and the United Kingdom.
For a monthly fee, users can upgrade to a "Premium" account, which offers higher bitrate streams, offline access to music and use of Spotify on mobile devices running iPhone OS, Android or Symbian.
Currently only consumers with a credit cards issued in one of the launch countries can activate a Premium account. A "Day Pass" was available, which gave unlimited advert-free listening for 24 hours; this option was removed when Spotify "Unlimited" was introduced in May 2010.
Music can be browsed by artist, album, record label or playlist as well as by direct searches, and a link allows the listener to purchase selected material via partner retailers.
Launched in October 2008, Spotify has approximately seven million users as of May 19th, 2010; about 250,000 of these are paying members.
Spotify is available in these countries.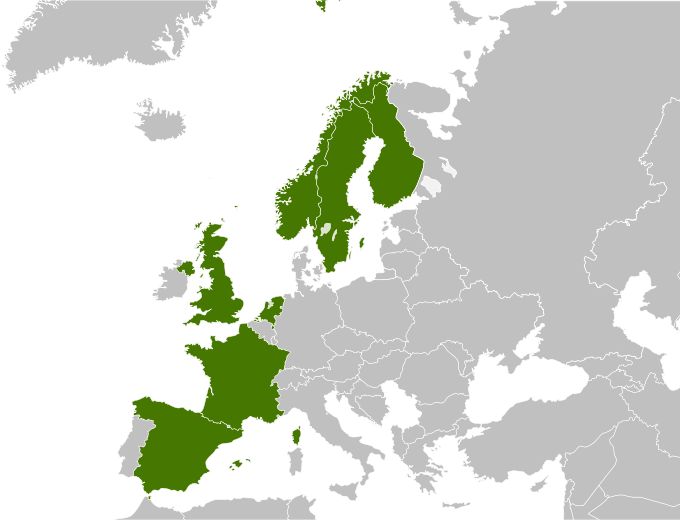 ---
Permissions in this forum:
You
cannot
reply to topics in this forum